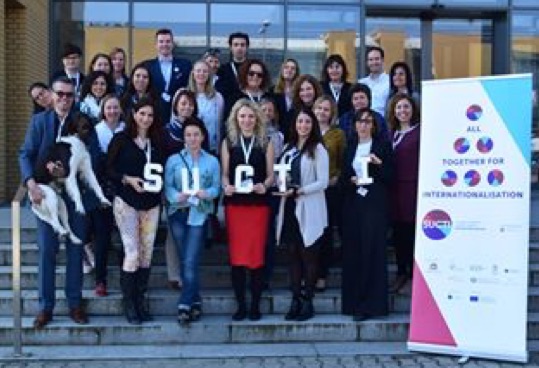 From April 9th to 13th, 2018, the SUCTI Project organised its main Training activity at Adam Mickiewicz University (AMU) in Poznań (Poland): the Train the Trainers week!
Three non-academic staff members from all partner universities (AMU, Justus-Liebig Universität-Giessen, University of Porto, Universitat Politècnica de Catalunya, Universittà Cattolica del Sacro Cuore and the coordinator: Universitat Rovira i Virgili) participated in this intense week of training around Internationalisation, intercultural communication and training skills.
The SUCTI Trainers Network was officially founded at this event and the new trainers showed all their potential with their final presentations on Friday.
The SUCTI Partners are very proud of all the work that was done and the excellent results of this passionate week. Now, SUCTI Trainers will organise and deliver their own SUCTI course at their own institution and in 2019 we will organise a Best Practice Conference where all trainers will meet and learn from each other again, improve their skills and continue to transform their own institution from within through the SUCTI training on internationalisation.
Welcome on-board, SUCTI Trainers! We are happy to see the SUCTI Family growing.